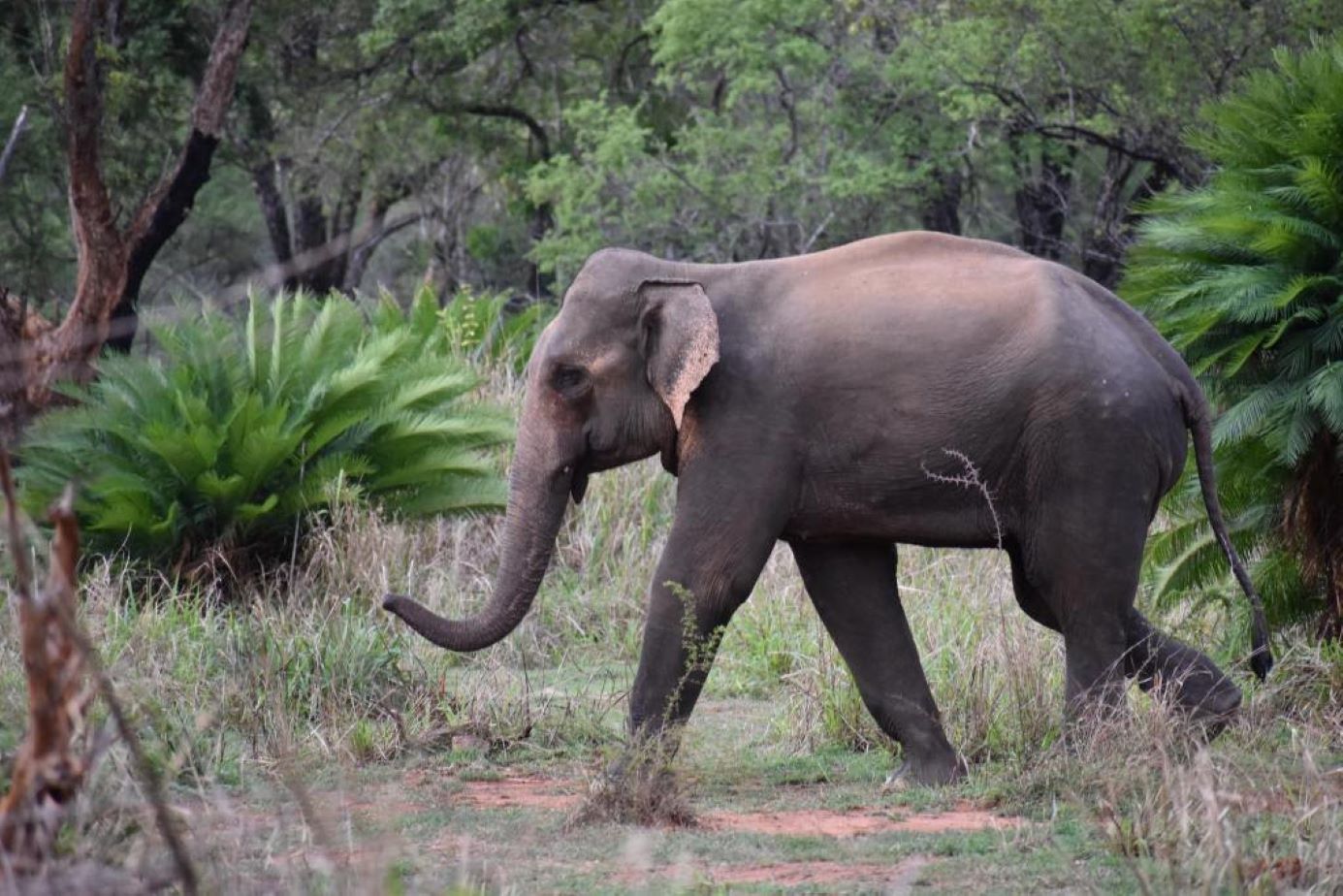 "I had a fantastic time, and I wouldn't change anything about the program. It is so hard to leave, and I would extend my trip if I could! Thank you all for a wonderful volunteer experience." Emma Lancaster, USA
Aurélie (Lily) Coste Chareyre
France
Three words: I loved it. This project brings me a lot of things as on human level as on an animal level. I discovered a new world which is especially what I wanted. I had never volunteered in my life and this was the perfect start; I am sure I will do another one later, perhaps medical volunteering as I am in the medical field.
The staff were lovely, always taking care of the volunteers. The field house was full of life, I very much enjoyed our card game night.
I am just disappointed I didn't see the "elephant bus" because of holidays.
Thank you very much for these 2 weeks, I have in my head many memories which I will never forget.
Scott Howells
Wales
What a great introduction for me into the world of volunteering! Sri Lanka is one of the most beautiful places I've ever visited. The work you guys are doing here is inspirational; I can see the passion you all have for the project and animal conservation as a whole.
The daily activities we've taken part in showed me just how much time and effort go into achieving your goals. In just 2 weeks I have learnt a massive amount about the behaviour patterns of elephants and the issues that are faced as a result of elephant/human conflict. I am also the best Data Recorder that has ever volunteered – fact.
Everyone has been so kind and welcoming. The boys are hilarious and made some of the longer stretches out in the field much more enjoyable with jokes and games to keep morale up. It was great to talk to Chandima and gain a better understanding about what the goals of the project are and what issues you face day to day. Alicia = Legend. She made the 2 weeks doubly enjoyable with her banter, happy personality and kindness.
Summed up, I had an amazing time. Maybe one day I'll come back if you're lucky!
Christopher Sangster
England
The elephant conservation project is a fantastic example of an ethical project that provides a perfect opportunity for volunteers to feel like they are making a real difference without causing harm or exploiting the locals. Wildlife is treated with respect and volunteers must remain at a respectful distance, and the activities the Society are involved in all provide benefits for local farmers as well as improving the situation for wildlife.
The accommodation is simple but provides everything you need. Having a central communal area where everyone can sit and chat or play games makes it easy to socialise. There are fantastic views of the surrounding area, especially at sunrise and sunset, and the resident dog and cats are friendly, especially if you're eating food.
The field guides are all very friendly and make even the more mundane tasks enjoyable through their jokes and playfulness. They are knowledgeable with regard to wildlife and wiling to answer questions, making the activities even more rewarding. There is also some excellent music played in the field house.
There are a good range of activities, meaning that things never become repetitive. It is worth staying for more than one week to ensure that each activity is experienced more than once, as each day is slightly different. For example, I was able to be involved in planting orange trees at the beginning of my time on the project, then on my last day we travelled round several farms to examine trees that had been planted earlier. Seeing different stages of the various projects was highly rewarding.
Overall, I highly enjoyed my time on the project and my only wish is that I could have stayed longer. I would highly recommend it to anyone with an interest in wildlife conservation, or just a love of elephants generally.
Todd Soyck
USA
The three weeks at the Elephant Project have gone by quickly. What I valued most about the project was the work we did that was geared towards reducing human/elephant conflict. Project Orange Elephant—both planting and monitoring the orange tree saplings—was a rewarding experience. While at times the work was hard, never was I asked to do any more than I could handle and plenty of breaks were allowed during the hot part of the day. Of course, monitoring the elephants in the afternoon and early evening was always a joy.
As for the staff they were helpful, friendly and fun all at the same time. Questions about things were handled very well by those in charge. Also, they were very good about looking after our welfare when it came to health issues.
The food was adequate as to expectations. The accommodations, while a bit simple, were also adequate to meet my immediate needs for sleep and hygiene.
Overall, I met some very nice people, learned a lot about the fauna and culture of Sri Lanka and enjoyed my stay very much.
Eileen Schildberg
Germany
You can have a lot of fun in the SLWCS if you get involved with the project and the people and do not be afraid of getting a little dirty. They take care of the volunteers very well, the staff is lovely and everything is always clean and the food is very delicious. In addition, there is always a contact person on site if you need help.
I learned a lot about the animals, the work here and about the culture. I really enjoyed seeing how dedicated the whole team is to helping people and animals on the ground. But I was most fascinated by the Project Orange Elephant, which found out that elephants do not eat oranges and they try to avoid damage. Also it was always nice to see the elephants in real nature every day.
I stayed in this project for 2 weeks, but would recommend to anyone if it is possible to stay longer. I spend a wonderful time here, which I will not forget. The filed house becomes your own family, your own home. I will miss the time here very much and if I have the opportunity I would come again.
Many thanks to the wonderful team.
Emma Lancaster
USA
I heard about this volunteer program through my friend Rae, who discovered it through IVHQ. I read up on the program, and really liked the idea of volunteering in wild elephant conservation in a non-invasive way.
I genuinely enjoyed everything about the volunteer program here. It was really nice to have a variety of different activities every week, and the same routine of elephant observation at night. I also really enjoyed the flexibility of being able to do more work if you wanted to help further. I got a chance to help with elephant ID's a few times in the afternoons, and it was not only fun, but really useful for me to learn about the process of IDing and the techniques to distinguish elephants apart. I am really happy that I had the opportunity to help out with this, and I just wish I could have done more!
I loved the variety of projects each week – dung analysis, pugmark surveys, fence monitoring, and project orange I liked especially, although I think my favourite project was the dung analysis!! It was nice that the volunteers were given the opportunity to do the data collection and recording. I felt like doing this, I was able to learn a bit more about the processes behind the research and I felt more involved.
The elephant observations were also really nice. Even on the days where we didn't see any elephants, I still had so much fun riding in the jeeps and hanging out with everybody. I also got a chance to practice Sinhala during this time!
The staff is amazing!! I got along with all of them really well. Alicia is very nice and friendly, and helped me get involved with the elephant ID's which was super awesome! The other staff members are hilarious (Siria especially), and they were always more than happy to teach me new things about the work, and Sinhala words. There was never a dull moment here thanks to the staff; they all made me feel like I was at home!
The food here was delicious and not too spicy. I never got sick of the meals, although it was nice being able to stop in town once a week to get snacks to feed my chocolate cravings.
Overall, I had a fantastic time, and I wouldn't change anything about the program. It is so hard to leave, and I would extend my trip if I could! Thank you all for a wonderful volunteer experience 
Horsfield Family: Michelle, Paul & Ruari and Toby kids aged 10 & 12
UK
We booked to come as we wanted to do something together as a family experiencing a new culture and gaining some personal satisfaction from contributing to a worthwhile project. We have grown together and as parents we've enjoyed seeing how our kids operate with other adults in a communal setting like this. We have enjoyed meeting the staff who live locally and eating the tasty food so well prepared by Leela Ratuna.
It has been overall a great adventure and we have all learned a lot; roughing it in dorms is all part of the charm; the boys have loved the endless games of Uno in the evenings and we've learnt a lot about the human elephant conflict issue here.
Good luck with the future and we all wish you well.
Jamie and Frances Clough-Murray
UK
We have had an amazing time doing what we like to do best, watch wildlife in its natural habitat.
The staff were really friendly and accommodating. Alicia is a perfect volunteer coordinator, enthusiastic, always happy to listen and help with everything including the weekends. The Field Scouts are really friendly and can get there point over without speaking much English (which is better than my non existent Sinhala). Siriya is an amazing guide and always finds a way to lighten the mood if its down, which is a real asset.
The small dorm style rooms are basic but work really well, and the fans are a god send, we have had much worse on other volunteer projects.
The morning activities are nice and varied and we felt like we are making small contributions to a larger picture. We missed out on going out on the Ellie-bus due to school holidays, which might have been nice.
The elephant observations from an Elephant perspective is really good, informative and quite exciting.
Frances – (Wanted to do her own review also)
I've had a wonderful time. The staff are really helpful. You may have to play charades but it always seems to work. The Field Scouts are great and such fun. Alicia the volunteer coordinator is so friendly as well as helpful. Everyone goes out of their way to make sure you have the best possible experience.
The food can be a bit spicy but I'm a wuss with spice. Siriya is so good at making the mood lighter, making us laugh, teaching us the local games and local words like numbers and animal names. I've laughed every single day. Loved helping plant the orange trees to help farmers or prep the butterfly garden. All the activities are aimed at increasing knowledge or helping people in order to protect the elephants.
I haven't been able to go on the EleBus due to school holidays. The staff have helped to plan and book activities for the weekends off. The other volunteers are cool too. All in all just come join in and enjoy. I absolutely loved it!